Dispute Resolution Rules Under the .PS ccTLD
Disputes under the .PS are governed by the UDRP policies and rules. If the dispute is not resolved by this policy, then the parties will be advised to get to use the Palestinian judiciary system (arbitration or court orders).
PNINA will abide by Palestinian court orders and agreed upon arbitration procedures regarding any domain under the .PS.
Policies
In resolving any dispute related to the .PS domain, PNINA follows the internationally accepted standards as outlined in ICANN's Uniform Domain-Name Dispute_Resolution Policy http://www.icann.org/udrp/udrp.htm
Since providing such services is very limited in Palestine, PNINA provides dispute resolution services to concerned parties based on the procedures and policies mentioned in the above mentioned document as well as the Palestinian domain name registration policy and PNINA official bylaws. Any dispute not resolved by this process will be subject to Palestinian court decisions and PNINA will fully abide with any ruling from the related Palestinian courts.
Read the PNINA-DRP-ver1.0
Fees
Fees for providing such services by PNINA will be governed by article 19 (Fees) of the document http://www.icann.org/udrp/udrp-rules-24oct99.htm
For providing Dispute Resolution Services for domains registered under the  PS ccTLD, PNINA charges the Complainant the following non-refundable amounts:
One-member Panel $1000.00
Three-member Panel $1500.00
A Respondent electing to have the dispute decided by a three-member Panel, rather than the single-member Panel elected by the Complainant, shall pay the Provider one-half the fixed fee for a three-member Panel.
Procedures
PNINA Procedure for .PS domain names dispute resolution.
PNINA procedure for implementing the DRP Decisions.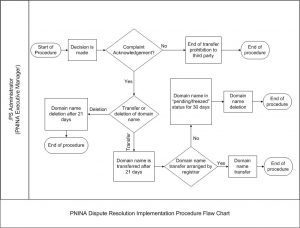 Liability
PNINA is ALWAYS exempted in all cases from being part or the consequences of such disputes. Except in the case of deliberate wrongdoing, neither PNINA (the Provider) nor a Panelist shall be liable to a Party for any act or omission in connection with any administrative proceeding under these Rules.
Cases
RESOLUTION
| Case Number | Date Commenced | Date Decided | Domain Names |  Decision |
| --- | --- | --- | --- | --- |
| D2005-001 | Sep 15, 2005 | Oct 10, 2005 | IKEA.PS | RESOLUTION |
| D2007-001 | Nov 29, 2007 | Jan 17, 2008 | ALWATANIYA.PS | RESOLUTION |
| D2007-002 | Nov 29, 2007 | Dec 13,2007 | WATANIYA.PS | Resolved, case terminated |
| D2009-001 | Sep 01, 2009 | Oct 1, 2009 | GEMZO.PS | RESOLUTION |
| D2021-001 | July 05, 2021 | Aug 24, 2021 | FACEBOOK.PS | |
| D2022-001 | July 10, 2022 | Sep 9, 2022 | AQSATV.PS | RESOLUTION |
| D2023-001 | March 20, 2022 | May 07, 2022 | Reflect.PS | RESOLUTION |
.PS DRP Documents
PS Domain Name Dispute Resolution Policy – PNINA-DRP-ver1.0
Resources