The Palestinian National Internet Naming Authority (PNINA) is the Official domain registry for the Palestinian country code Top-Level-Domain (ccTLD). Through PNINA, you can register your domain directly under the .ps domain or under one of its second level domain such as .com.ps, .org.ps and .net.ps. PNINA's implementation plan was initiated in early 2003. PNINA's role is to realize the Palestinian on-line presence through the formulation of registration policies, administer the .ps domain Registry, and to enhance and promote Internet usage in Palestine.
Mission Statement:
To be the non-governmental self-regulatory body for managing the Palestinian ccTLDs by maintaining and promoting the operational and financial stability, and the utilisation of those national resources to the best interest of the Palestinian people.
Our Vision:
Elevate the Palestinian ccTLds to be the primary digital identity for Palestinian business, organizations and individuals and promote their utilisation regionally and internationally.
PNINA Goals:
Defining the rules and procedures for registering domain names under the .ps directly or under the second level domains such as com.ps, edu.ps, org.ps and sch.ps.
Developing the contracts with the registrars and an eventual procedure for their accreditation.
Defining instruments to ease the solution of disputes and limiting the cases that go to court.
Maintaining contact with the international organizations to conform to international best practices.
Maintain the .ps registry database of the domain names in a secure and reliable way.
Make available the information on the registered names (WHOIS service) in accordance with the norms adopted for privacy protection.
Manage all contracts, billing, and administrative matters of the registry.
Board of Directors:
The PNINA Board of Directors is made up of representatives from the Public, Private, Academic, and Legal sectors and institutions interested in advancing Internet usage in Palestine. PNINA endeavors to establish meaningful partnerships between these diverse Palestinian sectors in administering and managing the national Internet enterprise.
The Palestinian Council of Ministers in his 50th meeting, held on 8/11/2004, approved the reformation of PNINA Board of Directors based on the decree issued by Minister of Telecommunications and Information Technology.
Organization Chart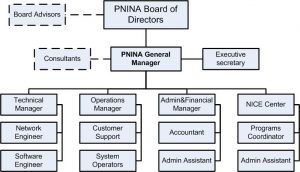 The organization is considered a unique entity that grouped all stakeholders of the Palestinian IT sector to make sure that it is managing the .ps domain which is a valuable national asset for Palestine to the best interest of the IT community and the Palestinian People.
PNINA Bylaws
PNINA bylaws-english were approved by PNINA Board of directors and accredited by the Palestinian Ministry of Telecom. and IT MTIT.